Metsäkartano in cooperation with
Metsäkartano Youth Centre is one of the nine Finnish Youth Centres. We are all safe, goal-oriented and high-quality places supervised and subsidised by the Ministry of Education and Culture. For more information on educational travel, non-formal education, experimental learning and Finnish nature, please read more about our nine Youth Centres.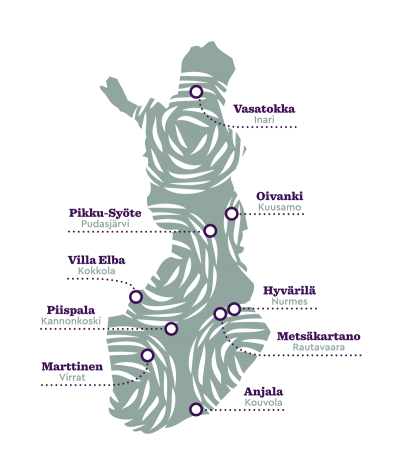 We cooperate with Northern Savo Lakeland 2 project team and Metsäkartano in Rautavaara belongs to the Northern Savo Lakeland area of Finland.
An adventure in Lakeland video.
Northern Savo Lakeland Supplier Manual.
Northern Savo Lakeland Product Manual.
Rautavaara municipality is the closest village to Metsäkartano - about 20 minutes from us. You can find the closest grocery store there as well as many beautiful sceneries in the nearhood of the centre of Rautavaara.
You can check and book some of the local experiences in the Doerz Rautavaara webstore.
Video: Beautiful Rautavaara